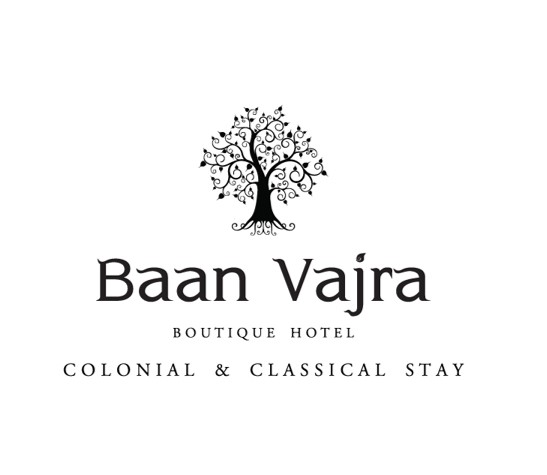 Baan Vajra is a cozy, private, and luxury Boutique Hotel in the centre of financial district of Bangkok.We are conveniently located on Silom Road and near the Skytrain and Chaopraya River Pier. The traditional house was first built in the 1930s, where it has survived the change

of time and been inherited by many generations. Today, the house has been renovated and preserved the characteristic and atmosphere for all guests and travelers to experience.





Room Types &
Accommodation



Baan Vajra offers 16 rooms total. The two types of room are Colonial and Classical rooms.

The Colonial rooms are located in the colonial wooden house, decorated with wooden and antique furniture for the original atmosphere.

The Classical rooms are located in the white, newly renovated building, where they are decorated with wooden furniture, noise-cancelling windows, and marble-tiled bathroom.




| | | |
| --- | --- | --- |
| Classical Royal Suite | Colonial Suite | Colonial Private Suite |




Location

Baan Vajra Boutique Hotel

18 Silom 19, Silom Road,
Bangrak District, Bangkok,
Thailand 10500

Tel:

+66 (0)2-235-1100, (0)88-246-6363






While the area is full of commercial and high-rise buildings, the hidden gem Baan Vajra in the vibrant centre of Bangkok shall give the sense of an oasis in the city and peaceful stay for all guests and travelers. Guests could take a few minute walk to various public transportation, such as bus stations, Surasak Skytrain Station, and Chaopraya River Pier, where guests could reach many famous and worldly known Bangkok destinations, namely Pat Pong Street, Asiatique the Riverfronts, Siam Paragon, MBK, Jatujak Market, Yaowarat (China Town),

the Grand Palace, Wat Pho, and Kao-San Road






Where the legacy lives on for generations
"Baan" is a Thai word for "House," and "Vajra" is an abbreviation of "Vajrabhaya,"
the family that lived and raised their children on this land and house for generations.

Baan Vajra, a hidden gem on Silom Road, shall offers a rare experience of staying at a real family house nearly 100 years old. We aim to provide a quiet family oasis in the heart of Bangkok for every guest.

The family name Vajrabhaya was bestowed by King Rama VI in the 1910s, when Thailand was still known as the Kingdom of Siam. Bangkok's Silom area was full of trees, gardens and canals, and the Vajrabhaya was already living in the neighborhood.

In the 1930s Baan Vajra was built on the current site on Silom 19 by a civil servant of the Justice Ministry named Daeng Vajrabhaya for his children. After Khun Daeng ("Khun" is a Thai honorific used for both men and women) passed away, the house became a residence for his
son Pruk Vajrabhaya.
| | | |
| --- | --- | --- |
| (Daeng Vajrabhaya) | (Family Gathering early 1900s) | (Pruk Vajrabhaya) |
Baan Vajra soon became a regular gathering place for relatives from the provinces. Then in the 1960s, Khun Pruk and his family moved out,
leaving Baan Vajra to his sister Amporn Vajrabhaya. Khun Amporn lived in this house until the 1990s, when she decided to move out to be closer to her nephew. Baan Vajra was then abandoned for many years, until the nephew Prempre Vajrabhaya had it renovated and rented out
to become a Thai restaurant. The restaurant was operational for fifteen years.

| | | |
| --- | --- | --- |
| (Amporn Vajrabhaya) | (Family Gathering late 1940s) | (Baan Vajra as Thai restaurantin 2000s) |
In 2015, Khun Amporn passed away at age 96. She passed Baan Vajra to Khun Prempre, who passed the house to his son Premmanat Vajrabhaya. Khun Premmanat, wishing to preserve his family legacy, decided to turn Baan Vajra into a boutique hotel, where guests could enjoy the characteristic and traditional atmosphere, while learning about real stories of the owner's ancestors and people who used to live in this house.
| | | |
| --- | --- | --- |
| (Current Baan Vajra in 2018) | (Current Baan Vajra in 2018) | (Current Baan Vajra in 2018) |
The project took about two years to be completed in 2018. There are three buildings: one four-story, classic, white building and two wooden colonial houses. Through a comprehensive renovation, Khun Premmanat tried to preserve the authentic beauty of the house while having meet all safety standards. All buildings have been reinforced by steel and concrete to ensure maximum safety and comfort for all guests. The house and rooms are decorated with many authentic furniture and antiques to enhance the experience of traveling back in time. A dining room,
a reading room, a garden, a home elevator and an outdoor Jacuzzi have all been added to create enriching experiences.
| | | |
| --- | --- | --- |
| (Baan Vajra Outdoor Jacuzzi) | (Baan Vajra Lobby) | (Baan Vajra Reading Room) |